The Course is Finished!
Öhe which hath begun a good work in you will perform it until the day of Jesus Christ: Phil 1:6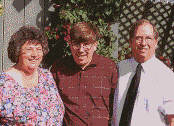 This was the year that Trevor traded in his Play Skool Flying Saucer keys for a set of real keys. Keys that chingle in his pocket when he walks. Real keys that keep company with his wallet that contains real money and a California ID card (that resembles a real driverís license). These are the symbolic keys that have unlocked his door to the very real world of adulthood.
At first, he had some difficulty stepping out that door, but has made the transition well. Everything in his life was so new, and different! The new schedule meant getting up early every morning, bathing and getting ready to go to work. It was hard for him to get used to leaving the familiar bosom of family life to step on that bus all by himself to go to St. Madelineís Sophieís Center (SMSC) Adult Day Program. One day when bus #30 arrived instead of the expected bus #25, an exasperated Trevor hit his forehead with the palm of his hand and protested in a loud voice "NO MORE NEW STUFF!!!" Change didnít come easy.
Upon arriving at the center, he is met by his new friends and it is off to work for Trevor. There are many activities for Trevor to do at SMSC. This beautiful campus is located on 5 acres of land in East County. In the horticulture program, Trevor tends the garden, the worm farm and helps with plantings. In the computer lab, he is learning to use various programs to help with language skills. For exercise, he swims in the outdoor heated pool several times a week, or participates in an aerobic class indoors. Once a week, he goes off campus to the SMSC art gallery, where he gets to do art work. Some of the consumerís are award winning nationally known artists! Trevor goes out into the community to do contract work two times per week. The jobs will vary but usually involve such activities as landscaping, litter abatement and flier distribution. He is actually paid for this work. You can only imagine what a confidence builder it was for him for receive his first paycheck! Above all the choices of work to do, Trevorís favorite place to work is in the kitchen. Working with the kitchen crew, Trevor helps prepare meals for 100 people and helps clean up. Trevorís new friend, Mike the job coach, is a funny guy who keeps everyone in the kitchen laughing! Just mentioning his name to Trevor will send him into fits of laughter!
This has been new for us, as we now have the opportunity to treat Trevor as the young adult man that he is. When his sister, Lydia, went off to work and college, he asked if he could go to "school" too. How could we say "no"? We agreed and gave him the opportunity to stretch himself and grow. We have given him choices and he has made some hard decisions for himself. The first few weeks of program heíd stand on the front lawn between two doors. He had a choice. Walk through the open door of the waiting bus and go to program or walk through the open door of our home to his waiting family and stay at home. How I wanted to pull him toward myself each morning as he would stand in the threshold. But ultimately each day he choose to go to program.
Even though he has become a man, he will always be our little boy. There is such a delicate balance between chronological age and developmental age. We have decided that Trevorís disability will not hold him back. Trevor will be allowed to grow up, just as our other children have grown and matured. The sweet by-gone days of mommy at home all day long with all her babies are forever gone now. I would be sad, if I wasnít rejoicing in the growth of our adult children.
I am happy to report that Trevor has risen to the challenge! His confidence has grown. Successful experiences have changed this man who was too shy to look at himself in a mirror into an outgoing person who is no longer afraid to speak his mind to strangers! His new social interaction has taught him some new skills, including some skills that we did not desire, such as swearing! He even used the words appropriately! Yikes! We couldnít believe our ears, and tried hard to keep from chuckling as we explained to him about words we use and words we donít use (he got the message).
Trevor is taking responsibility for his epilepsy by keeping his own seizure diary. Hopefully, this will give him a sense of control and ownership over his condition. He is taking initiative and attempting new things, like answering the phone!!! He insists upon taking his shower all by himself (which is a scary proposition). He helps pack his own lunch. He is concerned about his appearance. His clothes must be clean, neat AND matching. His hair must be combed to the side AND gelled. And mother mustnít EVER, EVER walk him to the bus. If I make the attempt, he physically pushes me back into the house, slams the door in my face and yells "you belong in there!" He says that he "likes being a grown-up and wants to go to work/program."
The course is finished. I have given myself permission to say, "I am done". He has completed his home school program with me. What a relief it has been to realize that homeschooling Trevor wasnít forever after all. Just as it is with the other children the task, was to be completed is due time. Trevor has met enough of his IEP goals in all life-space domains. His training at home has fully prepared him for this next huge step into adulthood.
Trevorís life has been greatly enriched. He hasnít left his home or family, rather, he has added work and a new circle of friends. I heard Trevor laughing in the bathroom the other day. After he left, I went in and spied a message for me written on the steamy mirror. In Trevorís script, it read, "I love you mom. Trevor". It was then, I knew that it was worth it all.
Looking back now, I think of the long, hard days when the task at hand seemed to never end. The many times I cried out in prayer on our behalf. In the end, I have come to realize that Trevor was, in some ways, my easiest child to homeschool! He was the one who produced the most precious fruit in the character of our lives.
One day I watched, our now 6í3" / 200+ lb. Trevor, as he picked up and cuddled his little 3-year-old sister, Audrey. Gently patting her on the head, he coos, " You are a nice, tiny little girl." He paused for a moment, and with a smile, thoughtfully added " I was little too. But now I growd up"
1 Corinthians 13:11 "When I was a child, I spake as a child, I understood as a child, I thought as a child; but when I became a man, I put away childish things."