What Happens to My Son After I Pass Away?
By Tom and Sherry Bushnell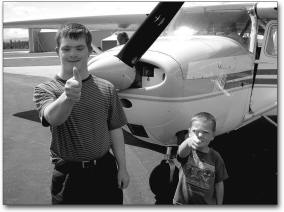 Many times we have pondered the fate of our grown children with special needs. All three of our adopted kids are going to need someone to look after them permanently.
We have spent all these years making sure our disabled children are easy to be around. No, they have not excelled in academics (not that they could have in the first place). And there probably would have been a very different emphasis imprinted in the hearts of our children if we have chosen an easier route such as public special ed.
As a family, our goal was to help these three blessings from God continue to be a blessing to others for the rest of their lives. Now, as we are standing here on the threshold of their adult lives, we peer into the future.
I am sure you have spent some time considering what the life of your child with special needs will be like after you are gone, too. Isn't this almost one of the first things that flood our minds when we realize that we are taking on a disabled child for life?
Then we go on without too much worry because we are so busy just raising them, contending with medical issues, education and trying to make sure our kids have socially appropriate behavior.
So, when the first of our gang with disability turned 18, the first question we had was whether or not to do a guardianship after age 18 for all our children with disability. Next we started answering that question by some more.
1. Are we living in a large city, where exposure to non-Christians could effect the decisions our child with disability may make? For example: where to live and who to live with, who to associate with, which government programs to be involved in, which entertainment to partake in, what social interaction is positive. Who makes medical decisions? Can they communicate their needs independently?
2. Does our medical community insist on permanent guardianship status (after age 18) before implementing treatment? Can our child communicate medical needs or questions? Can our child take medication faithfully, without help?
3. Do we for see any question about how our child may be treated? Do we trust our relatives to make good decisions? Are there brothers or sisters willing to take on the care in their home, or manage the financial needs of an adult-child in a semi– independent living situation or home for the disabled? Is there someone in our church, our friendship circle, or a relative that would be interested in being a named care giver in a will?
To complicate matters, besides not knowing all the answer to the above questions, life changes things. So what our answers might be today, may be different a year from now.

So we consulted with a lawyer, drew up a will, named an executor for the adult-children, and those under 18. Next we set about looking into guardianship for those over 18. In our community, we could foresee no problems with the medical side of things. Yet, the psychologist strongly suggested permanent guardianship for Social Security decisions in the future. We looked into this, and decided to do them all at once, when our youngest became 18.
What about families that do not have family to lean on as executors in a will? There is the state who will gladly take on the responsibility, but will not guarantee a Christian environment or even good care.
CHASK has had several letters from families in the above situation, requesting an answer to a question that troubles their hearts.
Are there some of us willing to be named in the wills of families who do not have good resources for care for their adult-disabled child, or even under the age of 18 child?
Here is a letter from a family that expresses an interest in expanding CHASK's services to families involved with NATHHAN and CHASK.

Dear CHASK,
My husband and I are believers and home school our 7-year old boy who has Down Syndrome and Autism. At this point we have no one in our extended families who would be capable and willing to take on the responsibility of being our son's guardian in the event of the untimely death of both my husband and I. Would your services possibly include matching our son with a candidate for guardian? We will be wanting to draw up a new will within the next couple of months.

Thanks so much,
Ruth

Now here is letter from, a lady named Mary Eicher (long-time CHASK / NATHHAN member) that is willing to share her family and life with another family, possibly being named as an executor or even care giver for a child or adult-child.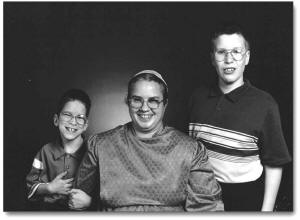 Dear Tom,
I am very much interested in knowing more about being placed in someone's will as one who is interested in caring for a handicapped individual.
It would be good if families could be sure that there was medical provision in place and some kind of support either from the inheritance or SSI benefits.
I would also like to mention that in the event of someone being incapacitated and no longer able to care for their family member, I would also be open to accepting a person in that situation.
I would not be able to handle a total care individual, but one who is ambulatory and fairly self-sufficient to care for his own needs.
Also, I would want to be sure that people would specify in their will a contingency such as if I should be incapacitated at the time of their demise, there would be an alternative made, but perhaps they would have already thought of that!


Mary Eicher
MaryEicher@aol.com


On the CHASK web site, we are going to post a new part on the CHASK web page, that lists families (with pictures) that will be a resource for families needing help with finding appropriate long-term care for after they pass away. You can contact them via CHASK if you are interested in getting to know them.
Legally, there is no home study needed, but appropriate letters of recommendation from your minister and a social worker would be recommended, if you do not have a home study.
If you have any suggestions or would like to be a part of this part of ministering to other NATHHAN /CHASK families, please let us know. We always appreciate your input.